How everything started ..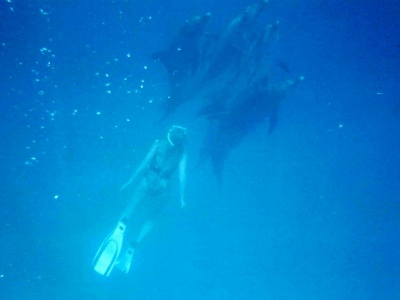 Since childhood I have been fascinated by the sea. When I was a little girl, I often went to the sea with my parents. I always ran away through the waves. There was no fear, I just lived. This selfconfidence with water always stayed; water was my element and would take a very special place in my life.
I felt a great love for nature. I saw myself in every living creature : a human, a tree, a flower, an animal. Every aspect of life, has something to tell us. Next teaching and practising yoga, I also fell in love with dolphins and so I became pioneer for Belgium and Holland.
In july 1990 I travelled for the first time to the Bahama's, unprepared for this trip but I had the strong feeling that nature will arrange everything for me, so it was. Floating on the water, I did some breath-excercises and sung the mantra "Om Namah Shivaya" (Thy will be done or the call of the 5 elements of nature). Dolphins reacted very strong. They knew this sound and I felt obviously the connection between yoga and dolphins. Since then I travel very often to warm countries like The Bahamas, South America, Greece and Egypt and so I became a link between human people and dolphins. With friends and soulmates I swim there with dolphins, with whom I already built a special and deep, close relationship. I give you the chance to meet them in their own living world, in the crystalclear water of the oceans. We stay a week on board of a yacht, to snorkel between dolphins and to enjoy the beauty the ocean has to offer us.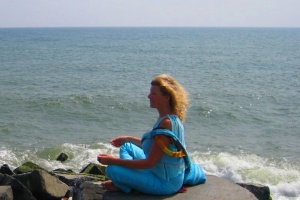 Who is Ocean?
Ocean is the pioneer for Belgium and the Netherlands for introduction, communication and Interaction with the wild dolphins. She guides in a professional way the unique encounter between dolphins and human being in their search for their inner light truth and destination.
20 years ago she was initiated by Melchizidek that she is the ambassador for the dolphins in the Nederlands, she could not believe that she was chosen by the dolphins for this amazing gift, but since ever then the dolphins where the high light of her life.
She is the source of inspiration behind the foundation "Dolphin Global Trust" to protect the dolphins worldwide.
Experience: Sales manager, tourism, air hostess, Yoga practice, Yoga teacher
Dolphin experience:
2 years participation in Eco traveling with Kathleen Dudzinski (biologist, wildlife and fishery science) in the Bahamas.
20 years experience – human – dolphin – interactions and observations in the Bahamas, Venezuela – Trinidad – Greece – Peru, Costa Rica, Brazil, Amazone river in Bolivia, Belize, Vancouver, Tenerife, Indonesia and Egypt etc.
The best education she received from the dolphins, by experience and by being so close to them all these years.
Education en special trainings:
2 years of training as a therapist (rebirthing – voice dialogue – counselling)
5 years of Yoga training – initiation by "Indra Devi" the first lady of yoga
Breath exercise initiation free diving from Jack Majol.
Ocean